Rules of Seven Card Stud. Part 2.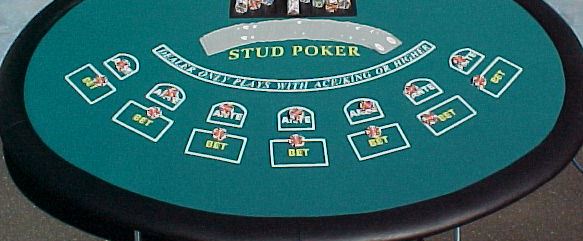 Player Betting Options
In Stud, as with other forms of poker, the available actions are 'fold', 'check', 'bet', 'call' or 'raise'. Exactly which options are available depends on the action taken by the previous players. If nobody has yet made a bet, then a player may either check (decline to bet, but keep their cards) or bet. If a player has bet, then subsequent players can fold, call or raise. To call is to match the amount the previous player has bet. To raise is to not only match the previous bet, but to also increase it. Bets and raises in Limit games are in pre-determined amounts.
Additional Stud Rules and Situations
For the purpose of determining the bring-in in Seven Card Stud, ties in card rank are broken by suit. The suits are ranked in alphabetical order – clubs (lowest), diamonds, hearts and spades (highest). The lowest suit breaks a tie, so if the deuce of hearts and deuce of clubs are visible at the beginning of the hand, then the deuce of clubs would have the bring-in. (Note: The ranking of equal hands at the Showdown is not determined by this rule.)
If the player with the lowest card showing on Third Street is all-in for the ante and they are consequently unable to make the required bring-in bet, the bring-in moves clockwise to the next player at the table, regardless of the value of that player's exposed card.
On Fourth Street, if any player shows a pair, the betting can optionally be opened or raised for one big bet (for example, $4 in a $2/$4 game). Once someone makes the 'big bet' in this situation, the bigger bet amount continues for the remainder of the Fourth Street betting.
Because Stud games are played with eight players but there are only 52 cards in the deck, it's possible to run out of cards before Seventh Street can be dealt. In this very rare instance, a single 'community card' will be dealt face-up on the table, which will be shared by all remaining players.
Other Stud Variants
A variant of Seven Card Stud, called Seven Card Stud Hi/Lo (aka 'Stud Eight or Better' or 'Stud/8') is also available in PokerStars poker room. In this variant of Stud, there are two potential winners in each hand, one person for holding the best high hand and one person for holding the best low hand, provided the low hand is an eight-low or better.
PokerStars also offers Razz. In this variant of Stud, the entire pot is awarded to the best low hand, with no qualifier.
Tags:
Poker
,
Rules
,
Stud